Training
David Dodds is licensed to train bat workers in both England and Scotland and for many years he has provided in-house skills training for a broad range of clients, including local authorities, ecological consultancies and conservation organisations.

Training can be provided in groups or on a one-to-one basis; as formal classroom sessions, as practical "hands-on" sessions or a mix of the two, depending on your requirements and training needs. Training previously provided to our clients includes:
Bat survey skills training course
Bat handling workshops (basic and advanced)
Use of bat detectors (Basic and professional)
Bat call analysis, using a variety of software packages
Use of unattended monitoring equipment (Anabat, SM2 etc)

Bat radio tracking workshop - 31st August 2019

This one-day workshop is suitable for professional ecologists, volunteer bat-workers and for the more casual bat enthusiast.

The workshop focuses on the practical skills necessary for assiting with a bat radio-tracking project, including project design; choice of radio tags; how to use receivers and antennas to best effect; health and safety; methods of recording data and some of the problems and issues likely to be enocuntered and ways to deal with them.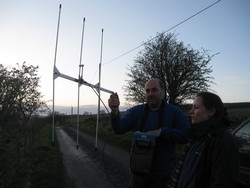 The day will be hands-on, including plenty of practice tracking down practice bat tags and then a night-time session, tracking live bats.

The workshop will run from 4pm until approximately midnight (or whenever the bats we're tracking return to their roosts!). The venue is Whitmuir Farm, Lamancha (on the A701 south of Penicuik).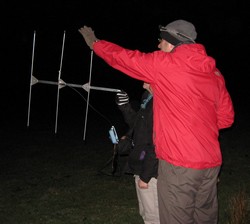 The workshop will be led by David Dodds, a licensed bat trainer who has radio-tracked six of the nine bat species in Scotland, as well as other species. David delivers training courses to organisations and individuals including Forestry Commission England, RPS, AMEC-Foster-Wheeler, Scottish Borders Council, South Lanarkshire Council, Midlothian Council and many others. David will be assisted by some of the team involved with the Whitmuir Bat Project, which studies the ways in which upland organic farming influences bat activity and provided young ecologists with training opportunities ina advanced bat survey techniques.

The cost of the workshop is £60 per person, inclusing VAT. The money raised will contribute to the ongoing costs of the Whitmuir Bat Project. To reserve a place email david@davidoddsassociates.com

Sadly this course is unsuitable for anyone with limited mobility, due to the rough ground to be covered whilst radio-tracking. If you have a physical disability and would like to learn these skills please get in touch.